Plank Road's Regular Events in conjunction with Two Way Street:
Please join us for our "virtual" get togethers online, via Zoom -- co-sponsored by Two Way Street Coffee House. Be sure to check the
Two Way Street
website,
Plank Road
website or
Facebook
page for details and links to each event.
Sing-Around

Vocal instrumental jam and sing-along with songbooks and leader.
Country and Western
Sing-Around
Sing along with your favorite C&W songs.
2nd Tuesday Song Circle -- BYOS!
2nd Tues. | 7-9 pm

A monthly opportunity for musicians to perform songs for each other, within a song circle.
Please read this note from our friends at 2WS

Help the Musicians: Keep the Music, and Their Incomes, Flowing
During these difficult times, know that Two Way Street Coffee House has the interests of musicians at heart. We are committed to helping the musicians whose acts we have had to cancel and hope that you will continue to support them and others in the folk music community whose income has plummeted.
There are many ways to help. Musicians are hosting online live showcases, reaching out through performances to which the public can make donations, and selling CDs online.
Here are some ways you can help:
"Undiscovered Music" is an online site that has a list of upcoming live acoustic concerts, with ways to donate to the acts:
undiscoveredmusic.net/streamed
.
Thank you for your continuing support,
Two Way Street Coffee House
NOTE: Two Way Street continues to host live online concerts every Friday night. These concerts are free, and we encourage you to tune in and donate to the artists.

It's a high-tech digital world . . .
... and sometimes we need a little help.
With Stephen Davis' departure from the Plank Road board, the technical responsibilities of distributing QuarterNotes and sending out upcoming event email notices fell to Dottie Lee. This was in addition to updating our Website and Facebook page.
Concerned that we might need someone to act as a tech backup, Dottie talked to Bob O'Hanlon, who put together a list of possible Plank Road members who might be able -- and willing -- to help.
Jim Scalone to the rescue!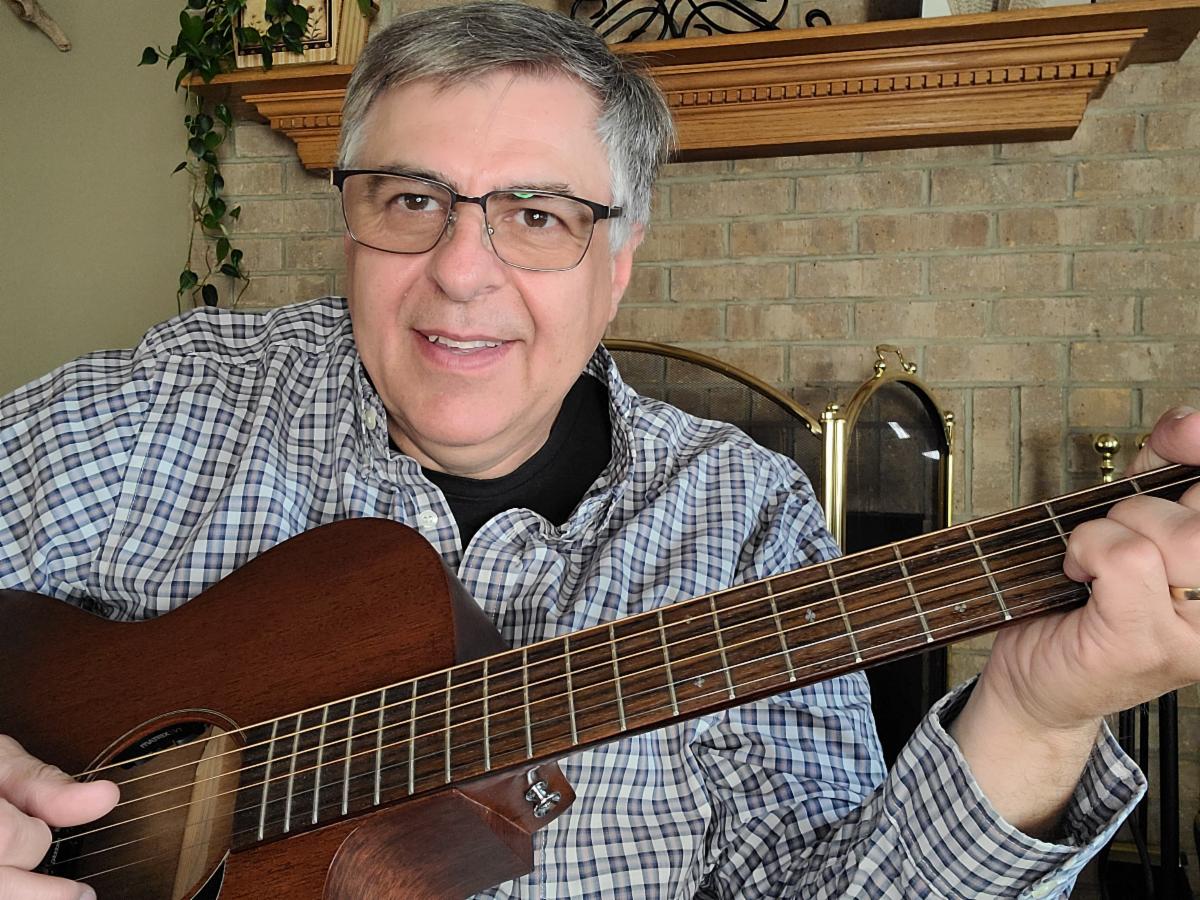 The first person Bob contacted was Jim Scalone, who graciously agreed. Jim says he's "pretty good" with technology, and what he doesn't know, his wife probably does.
| | |
| --- | --- |
| | |
| Dottie Lee | |
Jim has been in touch with Dottie and she says, "training is in progress."
He's already done a Facebook update of the calendar and events, and will probably continue to as he becomes familiar with processes -- helping reduce Dottie's workload.
Thanks to Jim for volunteering!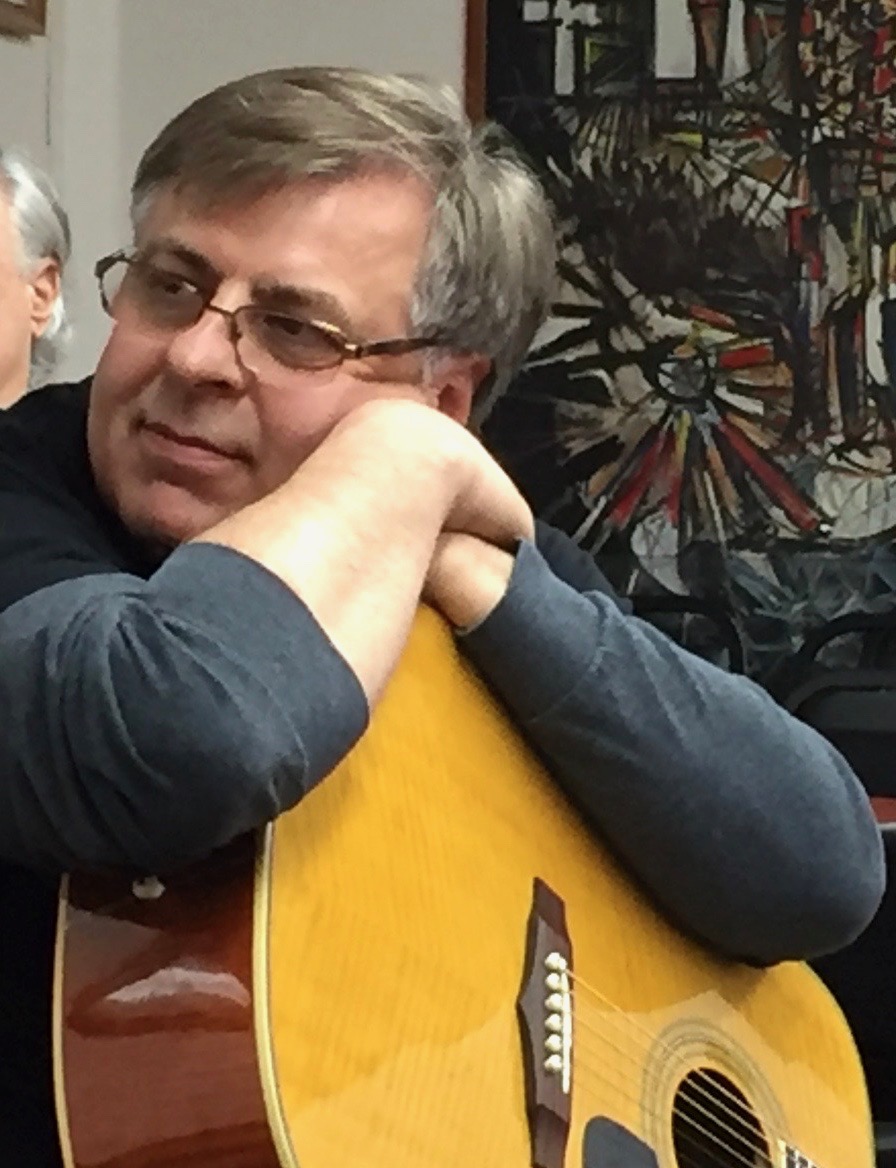 "I have been a part of PRFMS for more than five years, and it's been a steady road of friendships for me. Folk and Old Time Country is the perfect fit. When asked to help with the web site, I did not hesitate in saying yes.
"My career had required me to be computer savvy. I recently retired from Peoples Gas with 40 years of service. My new adventure is learning to drive a semi-truck -- something I have always wanted to try. So learning trucker songs fits right in!"
Gene Autry -- Man of many talents.
"They seem to like what I do, so I'll keep on doing it as long as they want."
By Andy Malkewicz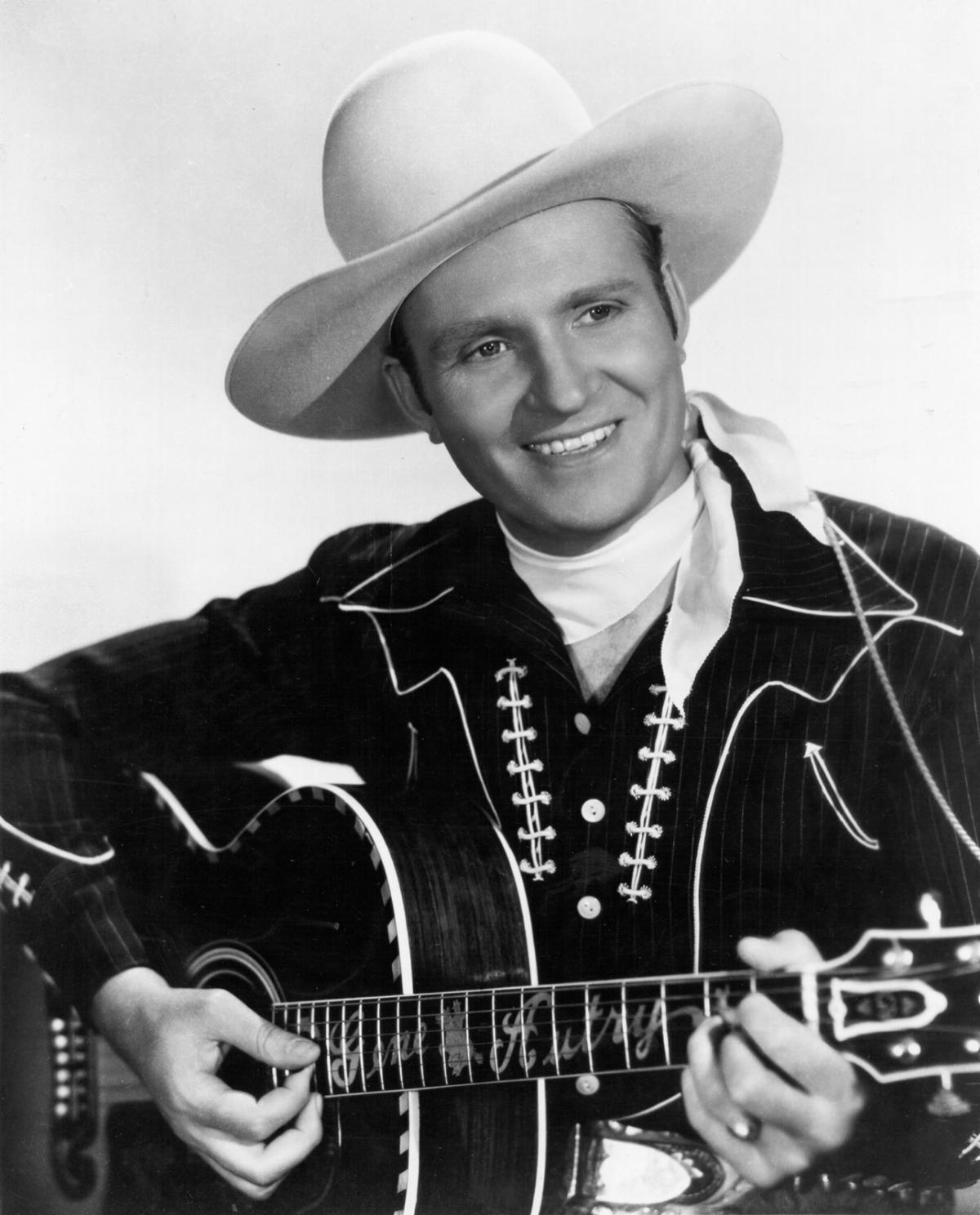 Orvus Grover Autry lived a long, clean life, to the age of 91 (Sep 29,1907-Oct 2,1998). He is the only person to have 5 stars on the Hollywood walk of fame in: Radio; Recording; Motion Pictures; Television; and Live Theatre Performance. In his lifetime he was a successful singer, songwriter, performer, actor, radio personality, producer, entrepreneur/businessman, and husband.
I must admit, the more I read, the more conflicting stories I got about some of the details, so, here is what I could garner.
A sometimes preacher's son, Orvus was born in Texas, and raised in Oklahoma. While in high school, he worked on his father's ranch. He left school in 1925 to help support his family. He worked as a laborer, and then a telegrapher for a railroad. As a telegrapher, he would play guitar and sing during the slow hours, when little was happening (which later got him fired).
According to a popular story which didn't appear until after his death, one night humorist Will Rogers came in, heard him singing, and recommended that he sing professionally. He saved his money, traveled to New York in the fall of 1928, auditioned, and was rejected by the Victor Talking Machine Company since they had recently signed two similar acts. He was given a letter of introduction, and advice to sing on the radio for a few years, which he did.
A recording contract . . . followed by 640 songs!
In 1929, he signed with Columbia records, worked on the National Barn Dance for 4 years and there met future recording partner Smiley Burnette. His recording career started rolling, where he sang various genres of country, blues, pop -- and more or less settled on western cowboy music.
His first hit was a duet of "That Silver Haired Daddy of Mine" which Gene and duet partner Jimmy Long co-wrote in 1932. In his career, he recorded 640 songs, of which he wrote or co-wrote over 200 of them, and sold over 100 million copies. He had the first million-selling record with "Golden Haired Daddy...", but RIAA didn't start certifying gold until 1958 (that award goes to Perry Como's "Catch a Falling Star").
Movies, radio, concert entertainer . . .
In 1935, Gene & Smiley debuted in their first film, "In Old Santa Fe". He became top ten money making western star from 1937 to 1942, and was second after that to Roy Rogers.
| | |
| --- | --- |
| | |
| Gene Autry and Roy Rogers were top western stars | |
All told, Autry appeared or starred in 93 movies. He had a radio show continuously from 1940 to 1956. Autry loved to perform, and became the ironman of showmanship doing 2 shows a day, 7 days a week, for 65 to 85 days at a stretch. And he was so popular, his shows were usually sold out. He was the first performer to sell out Madison Square Garden. He was popular with kids too, and created his ten cowboy codes, with rules like: "Never shoot first; keep your word; tell the truth," and so on.
Gene was quite the patriot too. He carried patriotic messages often on his radio show. When he enlisted into the air force, he was sworn in on his radio show. He had a private pilot's license, earned his flight officer wings, flew dangerous supply routes often, and then finished off his tour as a USO entertainer.
TV star and producer . . . and business entrepreneur.

Autry became the first major star to self-produce a TV show, and did 91 episodes of "The Gene Autry Show". He also produced "Annie Oakley," "Range Rider," "Buffalo Bill Jr," "Adventures of Champion," and the first 39 episodes of "Death Valley Days."
In 1942 Gene purchased his first rodeo stock, and a year later became a partner in a large rodeo stock company, acquiring more and better stock. In 1956 he became sole owner, and moved the company to a 24,000 acre ranch in Colorado -- becoming the major supplier in the west for championship rodeos.
In 1953 he bought a 110 acre ranch in California, and renamed it Melody Ranch. He sold off 98 acres, and kept the rest to create movie sets, where his own productions, "High Noon". "Gunsmoke", and others were filmed. After a large fire, the ranch was used to film some "Combat" episodes.
Might as well own a baseball team, too . . .
In the 1950s, he was part owner of a minor league baseball team. In 1960, he pursued broadcast rights to a new LA baseball team. The league persuaded him to become owner in 1961 of the Los Angeles Angels. In 1995 and 1996 he sold most of it to the Disney Corporation, and they acquired the rest after his death.
Gene and Jimmy Long had known each other from their railroad work, and they were both musicians. "My Alabama Home", Gene's first recording (1929 for Victor records) was written by Jimmy. In 1932 he visited Jimmy, and met his niece, Ina Spivey. He became a regular visitor after that, and married her on April 1 of that year. Since it was April fool's day people thought it was a joke. They stood together through the years, had no children, and after 48 years of marriage, she died on May 19, 1980.
His second wife, Jackie, had worked her way up the ladder at Gene's bank to Vice President. Their paths crossed at the bank over the years. In December of 1980, he met her at a gala, invited her to a New Year 's Eve party, and married in July, 1981. After Gene's death, she served on many of his organizations, including the Major League Baseball Executive Council, Oversight Committee, and the board of directors.
So, Gene Autry had a great life. Here are a few last bits of info and quotes about and by Gene:
- He once tried to open a restaurant in Chicago. The Mafia wanted their cut. Autry refused. They burned it down. He gave up on that idea.
- His first cousins, twice removed, are actors Randy and Dennis Quaid.
- "My movies were always clean. Parents didn't need a babysitter. For 50¢ they could send their kids to see my pictures and know they would be entertained wholesomely."
- "I'm not a good actor, a good rider, or a particularly good singer, but they seem to like what I do, so I'll keep on doing it as long as they want."

We get letters . . .
We get letters . . . sometimes.
We don't often get letters (emails, actually), but when we do, we print 'em! Thanks to our readers for your comments about the previous issue.
The (January) QN was really enjoyable reading. Especially the articles about Stephen and Connie! I've known Stephen for a while but didn't have any idea of his musical experience. Fun and interesting info to know.
- Jen Shilt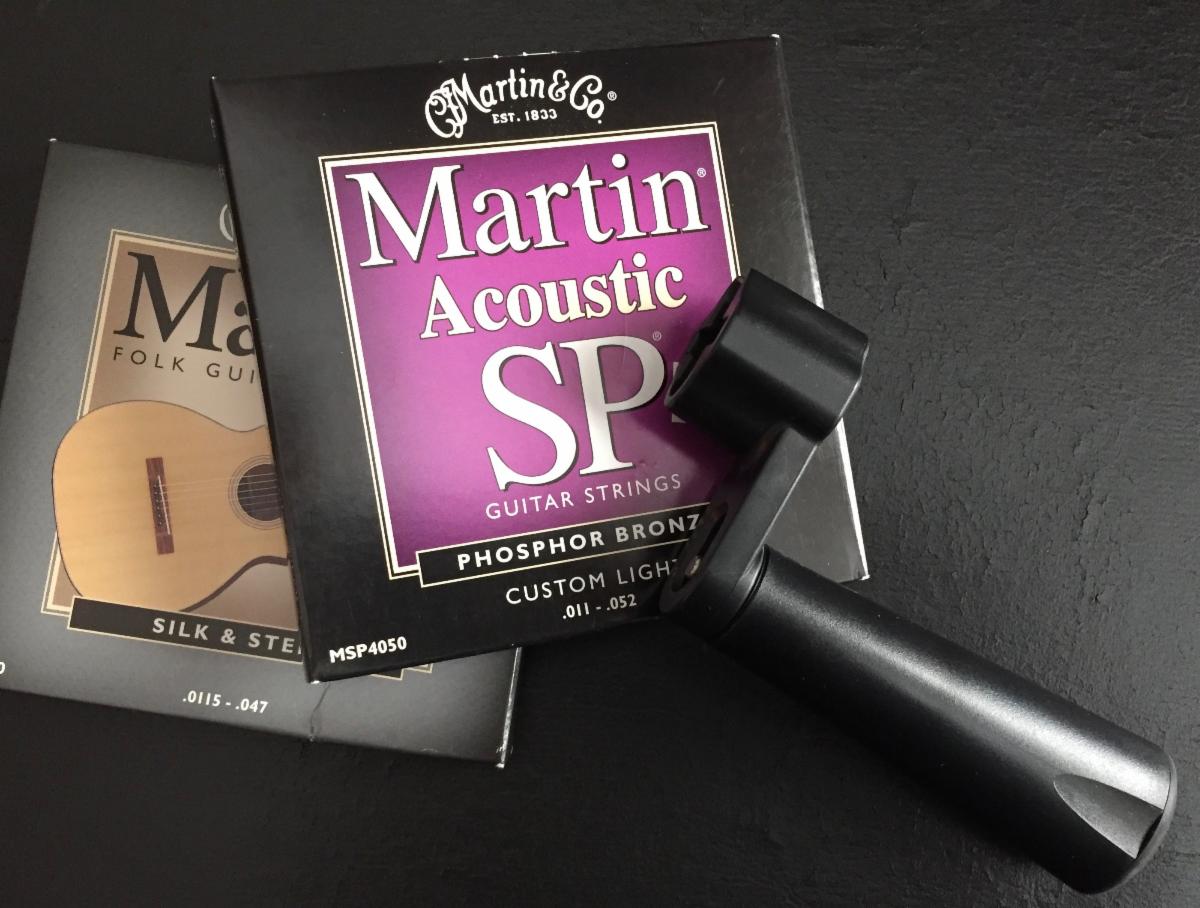 Hanging on by a
string . . .
How often should you change guitar strings?
When do you change strings on your guitar?
Or mandolin, banjo or ukulele? Well, there's no right answer. For some folks, it's once a month -- or more frequently if they're performing a lot. For others, it may be once a year.
According to an article in the January//February issue of
Acoustic Guitar
, there are many factors that determine the useful life of a string, including the player's style, frequency of use, and "sweat chemistry." The article's author says he changes strings if they have any "visible grime or gunk" accumulated on them, usually visible on the underside of the string. Or, if the wound strings have any dents or wear spots over the frets.
It can also depend on the desired sound:
Editor's note: I change mine when the bottom one or two wound strings start to sound muffled or "dead." Or... when I look at the calendar and realize, wow, it's been how many months?!!
Artists we've lost due to coronavirus . . .
On March 11, we passed the one-year mark since the coronavirus officially became a national pandemic in this country. Of the astounding toll of people who have died, here are some of the musicians and songwriters we've lost due to complications of COVID-19.
Tommy DeVito
- Founding member of the Four Seasons.
Joe Diffie
- Country singer.
Anne Feeney
- Folksinger and activist.
Trini Lopez
- Singer, actor.
Sterling Magee
- Blues musician.
Ellis Marsalis
- New Orleans jazz patriarch.
Charlie Pride
- Country music superstar.
John Prine
- Revered folksinger and a "songwriter's songwriter."
Phil Spector
- Legendary "Wall of Sound" producer (and convicted murderer).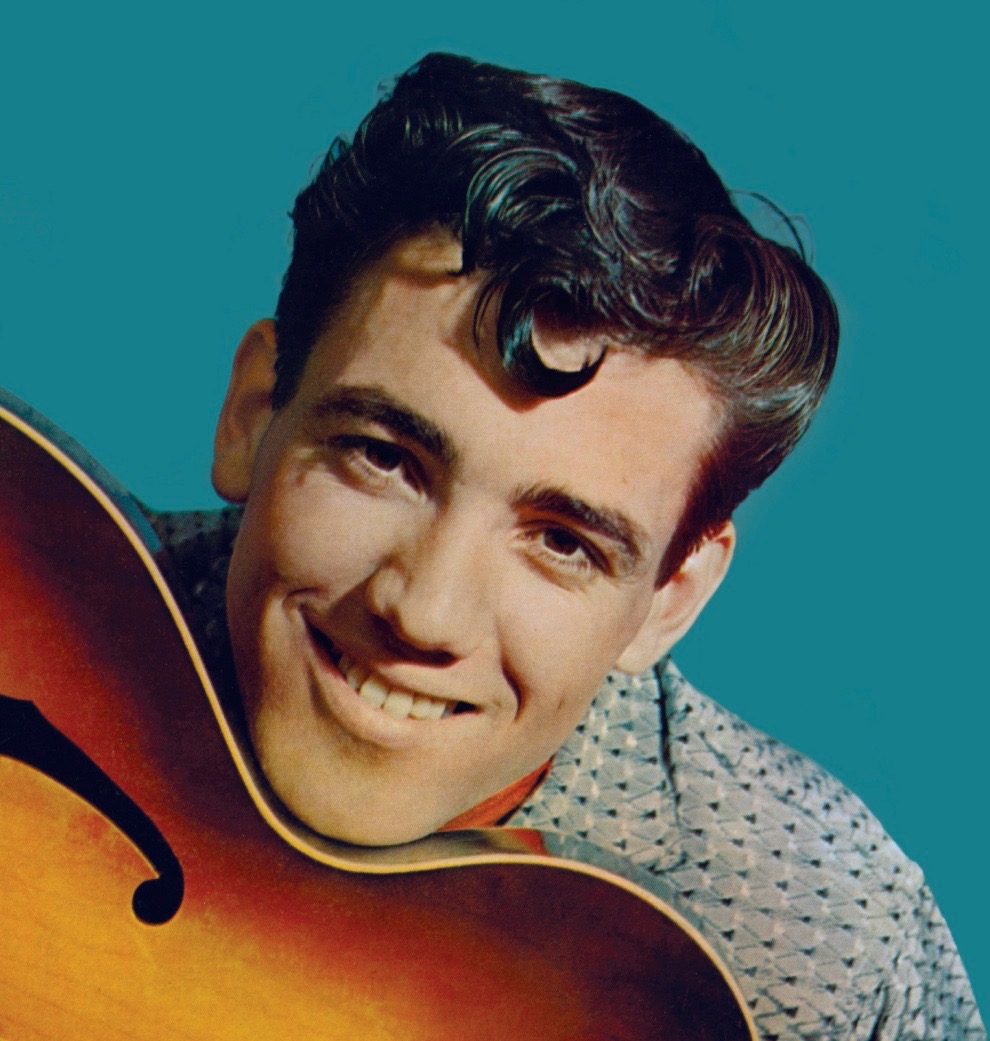 His smooth voice and cross-over appeal brought Jimmie Rodgers a string of hits in the 1950s and '60s. He died January 18, at age 87.
His first record -- and biggest hit -- was "Honeycomb" in 1957.
Later, he had additional success with

"Oh-Oh, I'm Falling In Love Again," and

his up-tempo version of "Kisses Sweeter Than Wine,"

a folk song that had been a hit for the Weavers.
His success was sidelined by a brutal incident in 1967, when he was pulled over by an off-duty Los Angeles police officer who beat him severely. The incident was controversial and ended up in court. It was eventually settled in Rodger's favor with a $200,000 settlement. Rodgers later settled into a comfortable niche as a performer and producer in Branson, MO, where he had his own theater for several years before retiring to California in 2002.
Rodgers was born in Washington in 1933. He started out singing in church and school groups. After graduating from high school, he briefly attended college, but left to enlist in the Air Force, serving in Korea during the Korean War. He recalled one particular evening near Christmas 1953:
"I bought a beat-up old guitar from a guy for $10 and started playing and singing one night and all the guys joined in. We were sitting on the floor with only candles for light, and these tough soldiers had tears running down their cheeks. I realized if my music could have that effect, that's what I wanted to do with my life."
Back in the States, Rodgers started performing in a Nashville nightclub for $10 a night and free drinks. In 1957 he traveled to New York to perform on a TV talent show and auditioned for Roulette Records, singing "Honeycomb." He went to a studio to record what he thought would be a demo. "They brought in four players and three singers and we recorded it in about two hours -- no charts, no music," he said. A week or two later, he was surprised to hear it on the radio, and it eventually went to the top of the Billboard pop and R&B charts.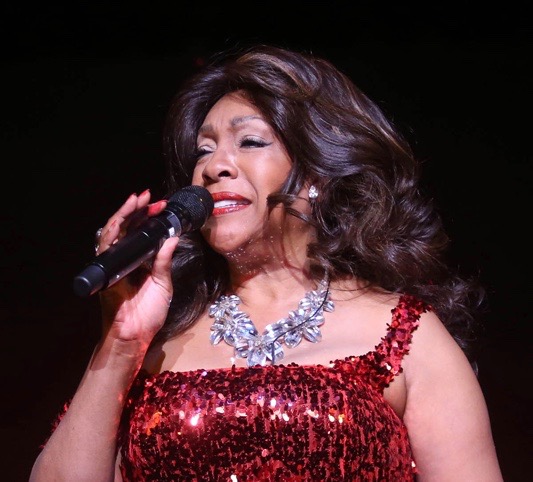 As a founding member of The Supremes, Mary Wilson was part of the most successful Motown act of the 1960s and best-selling female group in U.S chart history. She died February 8, at age 76.
Wilson was born in 1944, in Mississippi. Her parents soon moved to Chicago, and at age three she arrived in Detroit. It was there she became friends with Florence Ballard, and later met Diana Ross. Wilson and Ballard sang backing vocals behind Ross.
Following the departures of original members Ballard and Ross, Wilson remained with the group until it disbanded in 1977. In 1986, Wilson became a

New York Times

best-selling author

with the release of her first autobiography,

Dreamgirl: My Life as a Supreme, and later for the autobiography

Supreme Faith: Someday We'll Be Together.
Continuing a successful career as a concert performer in

Las Vegas, Wilson also worked in activism, fighting to pass

Truth in Music Advertising

bills and donating to various charities. She was inducted, along with Ross and Ballard, into the

Rock and Roll Hall of Fame

in 1988.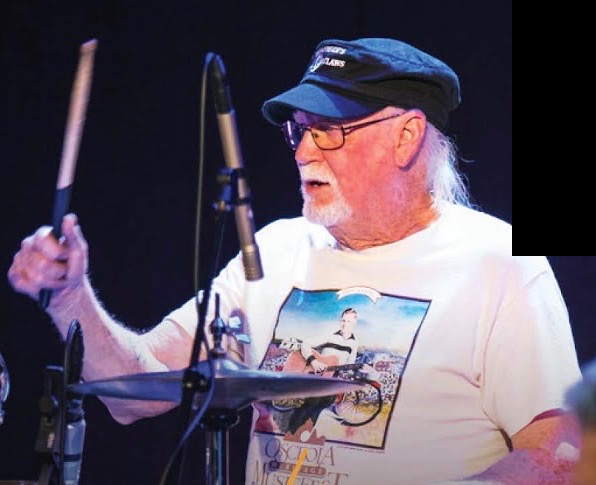 Longtime drummer for Waylon Jennings, Richie Albright, died February 9, at age 81. He helped form the distinct "outlaw" sound and was known as the "right-hand man to Waylon Jennings." The feeling was mutual. In fact Jennings named his son Waylon Albright Jennings (aka "Shooter" Jennings).
Born in Oklahoma and raised in Arizona, Albright joined Jennings' band, The Waylors, in 1964, and relocated to Nashville in 1966 after Jennings signed with RCA Records.
Albright was considered a musical consigliere to Jennings, performing on songs vital to the 1970s outlaw country genre. He played drums on many Jennings albums, including the collection of Billy Joe Shaver songs, "Honky Tonk Heroes." (See January QuarterNotes for more about Billy Joe Shaver.)
Albright encouraged Jennings to adopt rock & roll principles, and his drumming helped shape rock-tinged outlaw songs that still influence songwriters today. He said, "I was just there for the ride, man."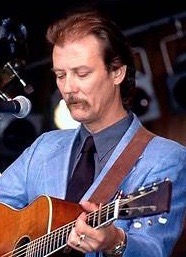 Tony Rice was considered by many as
one of the greatest acoustic guitar players of all time, yet was virtually unknown outside bluegrass music. He was a singer, composer and rhythm player,
but it was his guitar solos on
his storied Martin D-28
that caused him to be idolized by bluegrass and acoustic music fans. Rice died in December, 2020 at the age of 69.
A key early influence was guitarist Clarence White, a country and bluegrass star who crossed over into rock in the late 1960s as a member of the Byrds. White was just 29 when he was struck and killed by a car in 1973. Among the possessions

left behind was a 1935 Martin D-28 guitar -- which Rice purchased for $550.
Born in Virginia in 1951, his family moved to Los Angeles where Rice got into bluegrass. At the age of 19, he moved east to play professionally, eventually joining banjo player J.D. Crowe. In 1975, they released the landmark album, J.D. Crowe and the New South. Its progressive sounds marked a dramatic shift in bluegrass.
During this period Rice first heard the music of mandolinist
David Grisman
, who was pushing boundaries even further. Rice joined the Grisman Quintet in San Francisco and later, with jazz guitarist John Carlini, released River Suite for Two Guitars, considered one of the most beautiful guitar duo albums ever recorded.
Health problems left him unable to sing onstage, and tennis elbow limited his playing. His last

live guitar p

erformance was in 2013, when he was inducted into the International Bluegrass Music Hall of Fame. Ricky Skaggs called him "the single most influential acoustic guitar player in the last 50 years."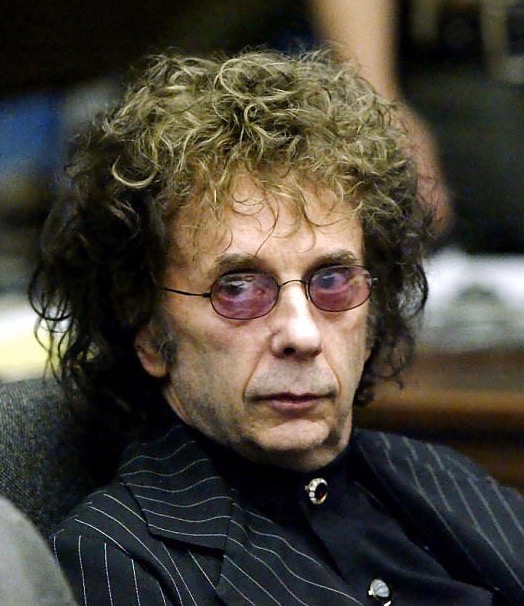 Legendary producer, musician, songwriter -- and murderer -- Phil Spector, known for the "Wall of Sound," died January 16, in prison after contracting COVID-19. He was 81.
Spector is regarded as one of the most influential -- and eccentric -- figures in pop music history.
He began his career at the age of 17 as co-founder, guitarist, and vocalist of the Teddy Bears, penning their number-one single, "To Know Him Is to Love Him." In 1960, he co-founded Philles Records, and at the age of 21 became the youngest ever U.S. label owner.
Throughout the 1960s, he wrote, co-wrote, or produced records for acts such as the Ronettes, the Crystals, and Ike & Tina Turner -- and many other groups, including a folk-rock collaboration with the Modern Folk Quartet.
Spector developed the "Wall of Sound," a music production formula he described as
"a
Wagnerian
approach to rock & roll, little symphonies for the kids."
Some of his chart-toppers included "You've Lost That Lovin' Feelin'" (the Righteous Brothers), "The Long and Winding Road" (The Beatles), and "My Sweet Lord" (George Harrison).
In the early 1970s, Spector produced the Beatles' album Let It Be and several solo records by John Lennon and George Harrison. But following work with Leonard Cohen, Dion DiMucci, and the Ramones, he remained largely inactive, dealing with personal struggles.
In 2009, after spending three decades in semi-retirement, he was convicted for the 2003 murder of actress Lana Clarkson and sentenced to 19-years-to-life in prison.
Don't forget to check out these great collections!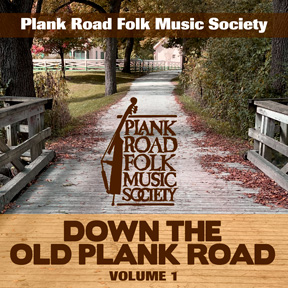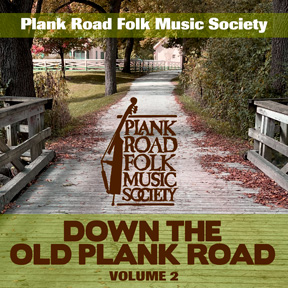 Volumes 1 and 2 of the reissued folk music albums from 1995 are now available in digital format. Down the Old Plank Road features a group of Plank Road performers singing and playing some great old songs. You'll recognize many of these musicians -- George Mattson, Mark Dvorak, Cathy Jones, Dave Humphreys and more.
Professionally recorded, these albums were originally released on cassette tape, and have now been digitally remastered for pristine sound -- and are easily accessible on many popular streaming services.
Here are some links:
Let's hope we can hear some live music soon!
It's Spring! The dark days of winter (and 2020) are behind us. But unfortunately, we're still in a pandemic, and the future of in-person music is still pending.
Let us not forget our friends and favorite venues when once again we can safely enjoy live music.
Two Way Street Coffee House

Maple Street Chapel Folk Concerts

Acoustic Renaissance Concerts

Acorn Coffeehouse

Tobias Music Concerts

Old Town School Of Folk Music

Friends of Lisle Library Concerts

The Brashler Barn
Stay safe, mask up, get vaccinated.
Bob O'Hanlon - President
(630) 702-0150


Bill Lemos - VP, Secretary

Connie Lawlor - Treasurer


2021 Board Members
Dave Humphreys
Kristen Fuller
Jennifer Shilt
Jim Gilroy
Dottie Lee - Technical Support
Do you have ideas for future articles? Things you'd like to see in the newsletter? Ways we can make it more enjoyable and relevant to Plank Road members? Here's your chance to be "
note
-worthy." Just send us an email with your comments about QuarterNotes. We welcome your input!
We may publish some of your comments and always appreciate ideas. (Think of it as sort of a "letters to the editor.")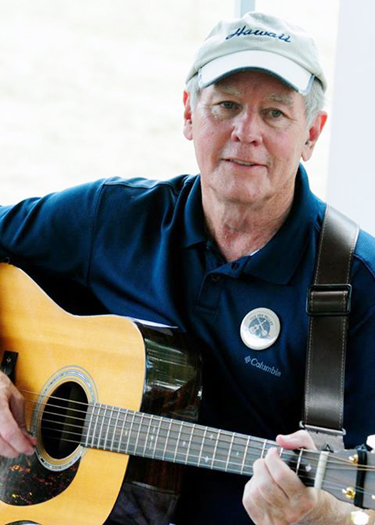 President's Message
April 2021
Here we are, spring is slowly arriving, and with it, our hopes of better times ahead. Plank Road is looking forward to a year of beautiful music and a gradual return to our in person gatherings.
As I write this, we are in an uncertain position, and still believe in "safety first", but keeping our options open. As I talk with various Plank Road members, it seems almost everyone has had their Covid shots, or have them scheduled, so we will take that into consideration. The First United Congregational Church in Downers Grove, where Two Way Street Coffee House is located, will also have a large influence on our scheduled activities going forward. So, stay tuned and check our website for any updates.
In the meantime, we will continue our virtual sessions, which gives us a way to see each other and play music.
Our January 31 virtual log cabin annual meeting was a success. The George Mattson Trio was terrific, as usual, and we had a nice turnout.
We have had a good response to our annual membership program. Thanks for sticking with us through the pandemic, and trusting us to restart our regular program of activities as soon as it is safely possible.
I hope you are all healthy and that I can see you sometime soon.
Bob O'Hanlon
President
Ken & Pat Lagerstrom
From concerts at The Old Quarter to today's virtual Plank Road sing-arounds, there's a lot of history...
Ken and Pat Lagerstrom have lived it since the beginning.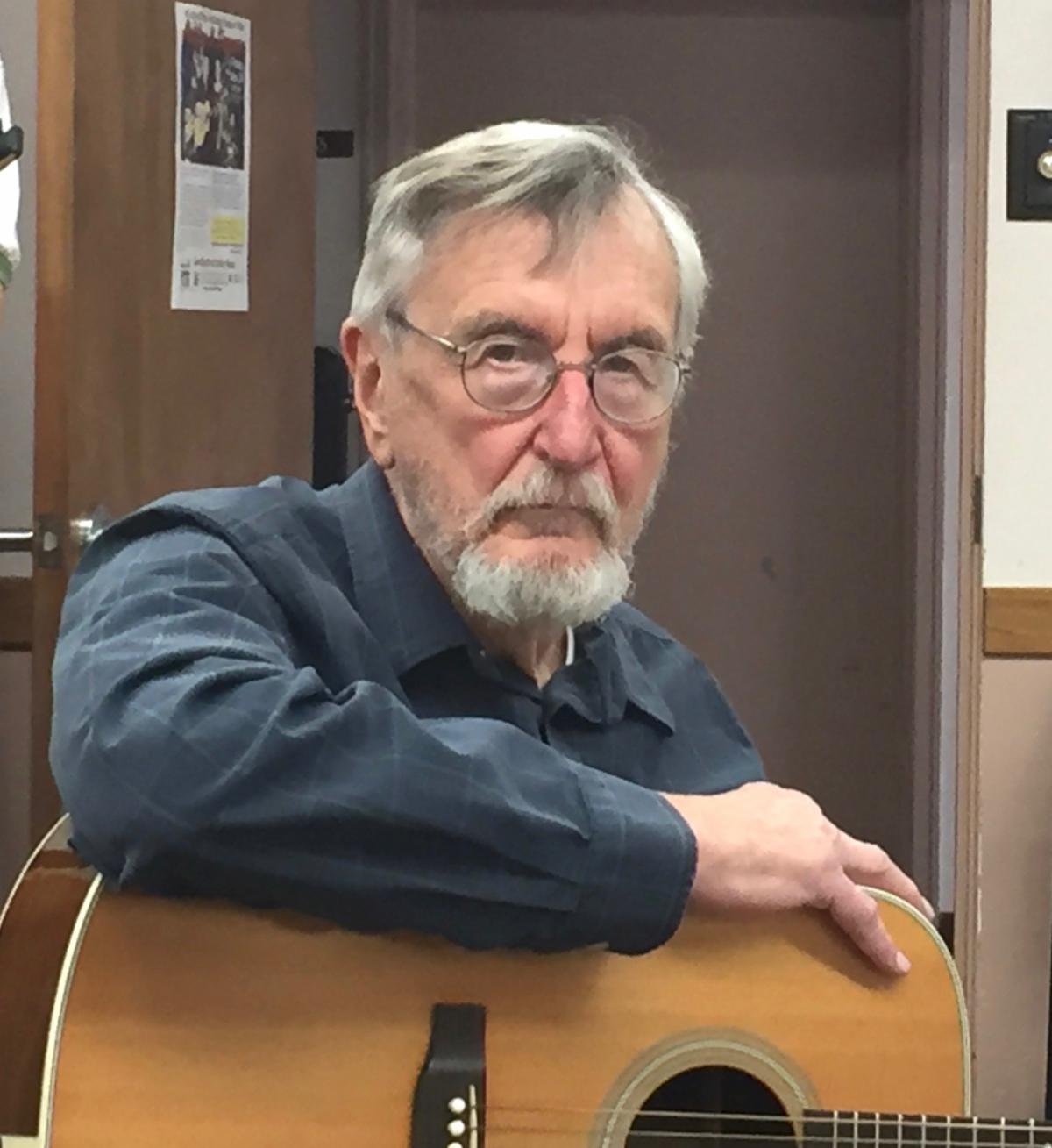 They rarely miss a Saturday sing-around...
You see them at the country/western sessions...
And every Log Cabin party.
They may very well be Plank Road's longest active members.
We're talking of course about Ken and Pat Lagerstrom, two of our most loyal and reliable supporters. We contacted them, and their daughters Jill and Katie, to find out a little more:
How it all began . . .
We asked Ken how he first became interesting in folk music. "It happened during the great folk scare of the sixties, during the height of the Kingston Trio," says Ken. "Pat and I were studying at North Park College at the time."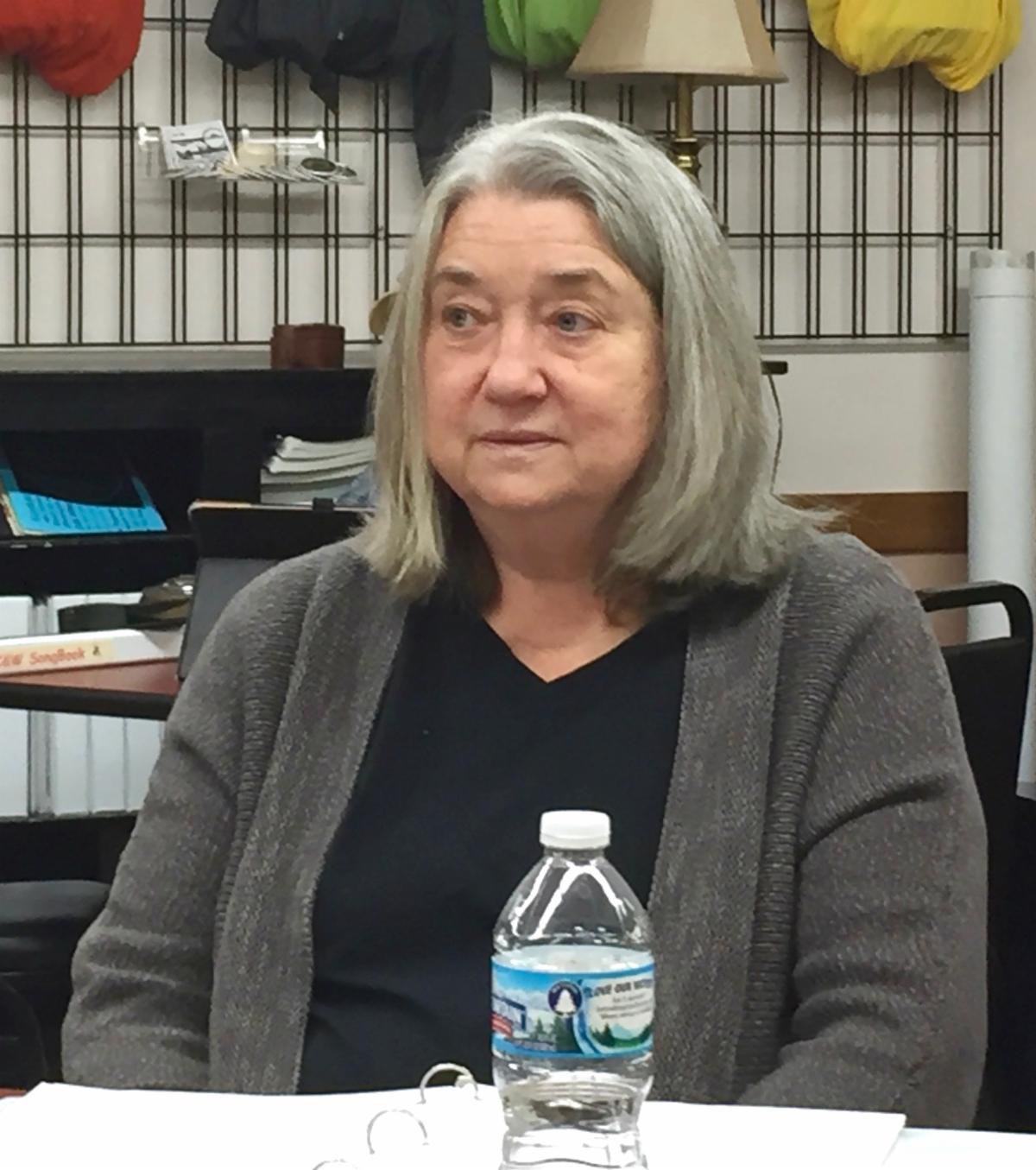 Pat recalls students gathering in the lounge on Saturday nights to listen to the "Midnight Special" on the radio. "Our first date was a Tom Paxton concert at Orchestra Hall," says Pat. "We enjoyed going to lots of folk clubs like the Earl of Old Town and Holsteins."
Ken's first guitar . . . a piano for Pat . . . and then came the kids.
"I bought my first guitar during college," says Ken. "Pat plays the piano -- her first was a Stark Cabinet Grand that she started playing in third grade." Pat continued to play in church, and today a Wurlitzer console currently stands in the Lagerstrom household.
And did their musical interests carry over to their two daughters? Jill was first, according to Ken. "She bought a classical guitar at a yard sale when she was in fifth grade."
But that was just the beginning, says Katie. "Later, my father bought us Sigma's from Tobias music for Christmas. Now, Jill and I both play Martins." Katie later added an acoustic Fender, and went electric with a Lake Placid Blue Stratocaster.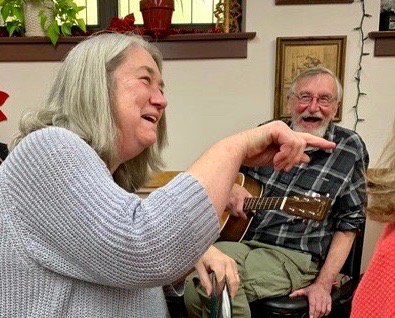 Good times at a Plank Road sing-around!
Saturday night concerts.
Way back in the day, Ken and Pat learned about the folk concerts at the Old Quarter (the precursor to Plank Road) from flyers on lamp posts in downtown Brookfield. They found the venue -- the Old School Hall at St. Barbara's, a building that stood in what is now the parking lot of the new Parish Center.
Ken remembers that concert. "Mark Dvorak sang train songs for the first set, Don Buedel sang murder ballads for the second set, while Lisa Lilly tended to concessions."
That established a pattern for the Lagerstroms for years