Plank Road's Regular Events in conjunction with Two Way Street:
Please join us for our "virtual" get togethers online, via Zoom -- co-sponsored by Two Way Street Coffee House. Be sure to check the
Two Way Street
website,
Plank Road
website or
Facebook
page for details and links to each event.
Sing-Around

Vocal instrumental jam and sing-along with songbooks and leader.
Country and Western
Sing-Around
Sing along with your favorite C&W songs.
2nd Tuesday Song Circle -- BYOS!
2nd Tues. | 7-9 pm

A monthly opportunity for musicians to perform songs for each other, within a song circle.
Please read this note from our friends at 2WS

Help the Musicians: Keep the Music, and Their Incomes, Flowing
During these difficult times, know that Two Way Street Coffee House has the interests of musicians at heart. We are committed to helping the musicians whose acts we have had to cancel and hope that you will continue to support them and others in the folk music community whose income has plummeted.
There are many ways to help. Musicians are hosting online live showcases, reaching out through performances to which the public can make donations, and selling CDs online.
Just Google the names of your favorite musicians to see if they are hosting online performances and learn how you can help them financially.
Also, "Undiscovered Music" is an online site that has a list of upcoming live acoustic concerts, with ways to donate to the acts:
undiscoveredmusic.net/streamed
.
Please consider a donation to the American Federation of Musicians Emergency Relief Fund (ERF). 100% of all donations to the AFM Local 1000 ERF will go to working musicians in need.

To contribute, visi

t:
www.local1000.org/product/emergency-relief-fund
.
The folks at FARM (Folk Alliance Region Midwest) posted these resources for emergency funding for artists and event producers on their websites:
Thank you for your continuing support,
Two Way Street Coffee House
Connie Lawlor joins Plank Road's board of directors.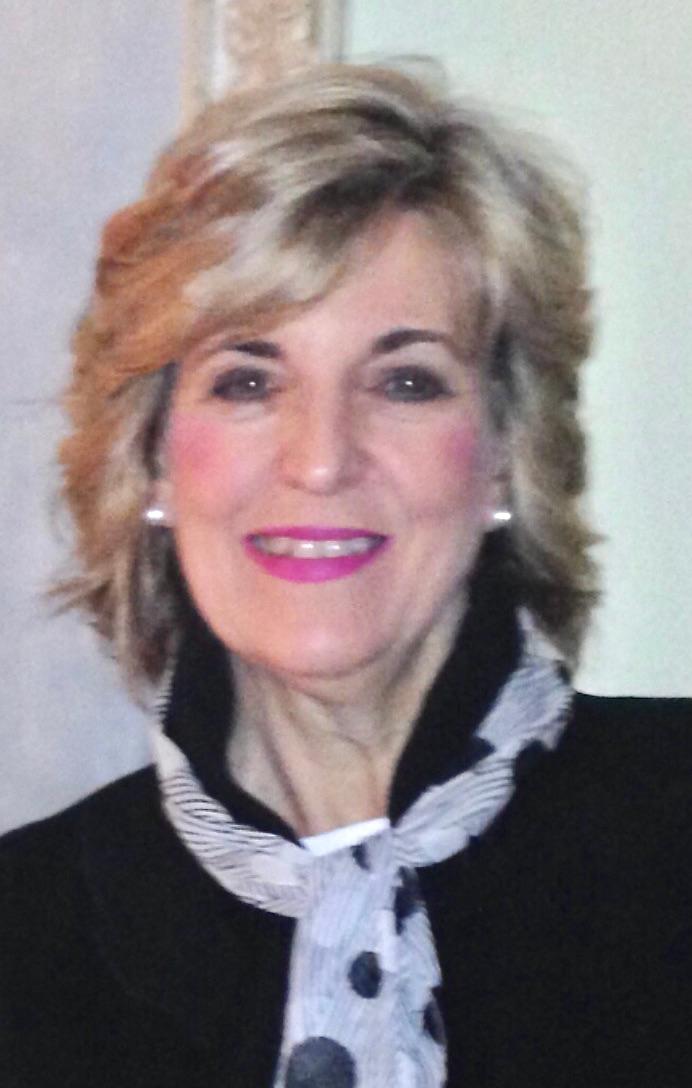 We're delighted to announce that Connie Lawlor has joined our board of directors. President Bob O'Hanlon was looking for a new board member and says, "Connie was the first person I thought of."
Shortly after Connie joined, our treasurer Stephen Davis announced he would be retiring from the board at the end of the year. As luck would have it, Connie has agreed to take over the treasurer's responsibilities.
Connie lives in Westmont and has two grown sons. She's spent her career in banking in various Controller roles. "Music has always been a part of my life," says Connie. "I was trained in classical piano as a child, and took up the mandolin seven years ago."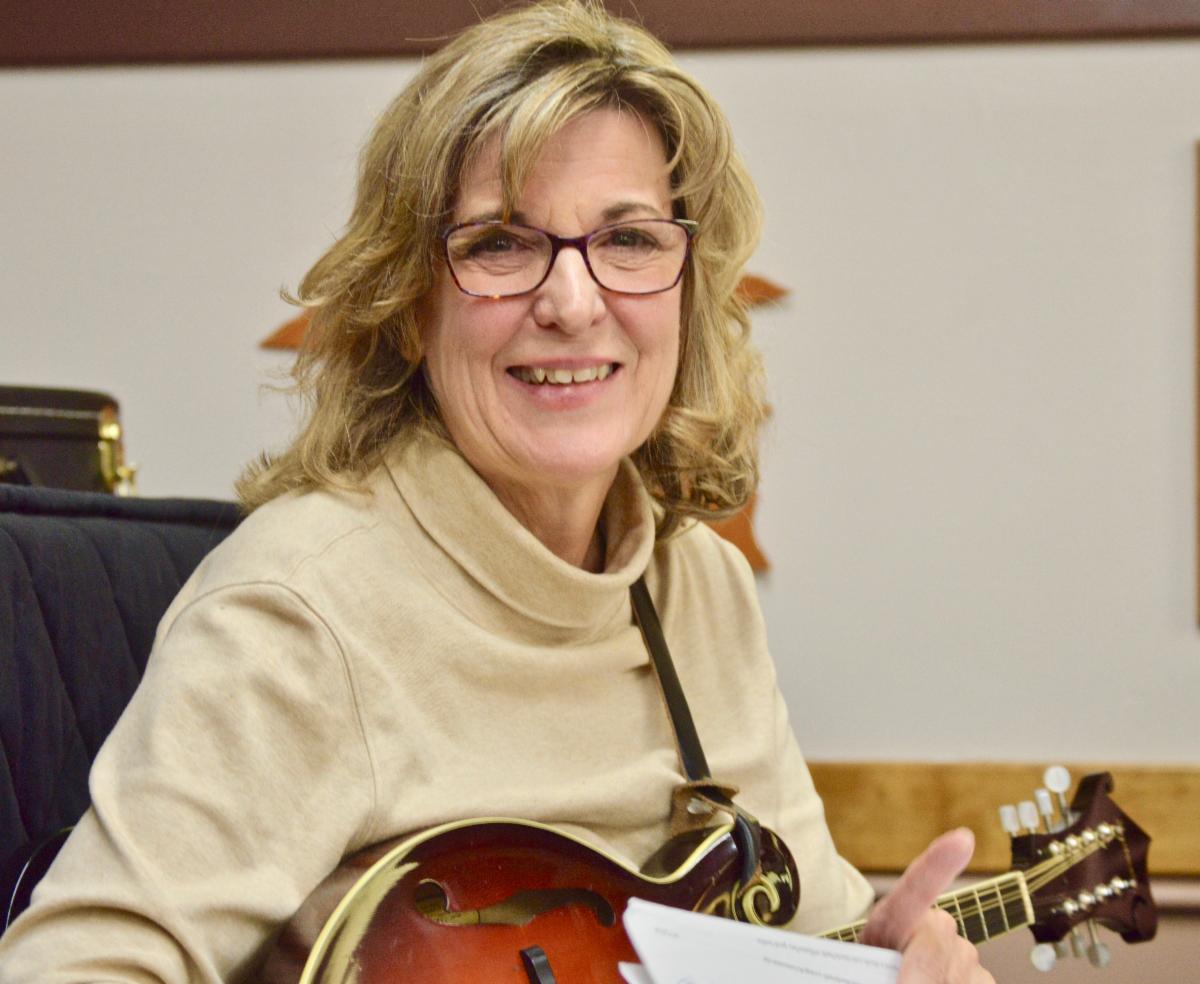 Since she joined Plank Road, we've enjoyed her enthusiasm -- and her mandolin playing at our sing-arounds. And since our sessions have gone virtual, Connie has been contributing vocals as well. She adds, "I'm very excited to be part of PRFMS!"
In addition to Connie, the 8-member Plank Road board consists of: Bob O'Hanlon (president), Bill Lemos, Jennifer Shilt, Kristen Fuller, Jim Gilroy, Dottie Lee, and Dave Humphreys.
The Man In Back
By Fred Spanuello
No, this is not a misprint nor is it a story about Johnny Cash. It is about an individual who many may not know. His name is Jimmy Capps, a session musician who spent 60-plus years with the Grand Ole Opry.
I first saw him on YouTube presentations of Larry's Country Diner and Country Family Reunion shows. He was playing a beautiful red guitar and was always mentioned by the artist who was performing. I did a little research and found his name. I was intrigued and when I learned that he had written his biography, I bought the book. I read it in one night as it was captivating.
I learned about his love of music and how he played with Charlie and Ira, the Louvin Brothers, as well as others. On Larry's Country Diner shows, he was the sheriff dressed appropriately complete with badge. He was in great demand as he had a very smooth playing style and never missed a beat.
In December, my wife Carol, who had been on several cruises to Europe, mentioned that there would be a country and bluegrass cruise coming up in January 2020 and would I be interested. I have never been on a cruise but I did, much to her surprise, agree to go. Our itinerary listed the lineup of stars who would be on the ship. Bill Anderson, Jeannie Sealy, Gene Watson, Rhonda Vincent as well as many others. Also included was Jimmy Capps.
I had to go, and with any amount of luck, meet Jimmy.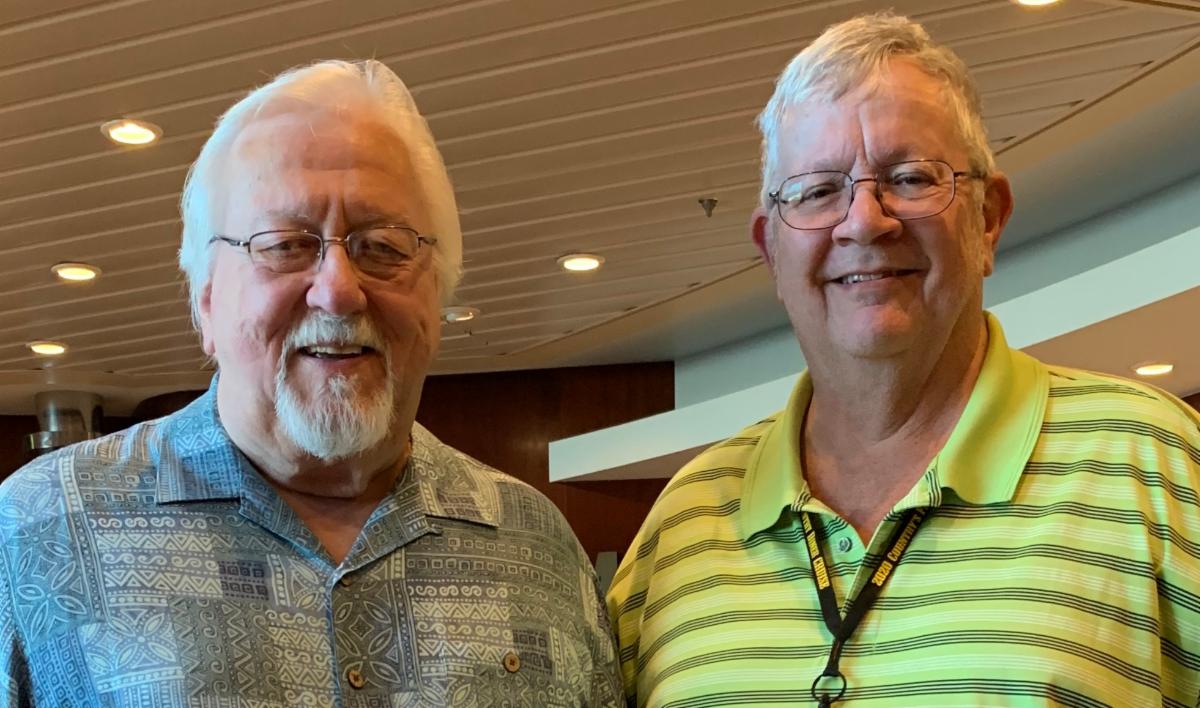 Jimmy Capps and Fred Spanuello
The time came for the meet and greet where we all passed our autograph books to the stars to sign. I saw Jimmy and was lucky to get my picture taken with him.
Later during the cruise, as we were heading to lunch, we rounded the corner and ran right into Jimmy as he was leaving. He was nice enough to stop as we exchanged pleasantries and I told him how I loved his music. He was a perfect southern gentleman and very humble. A few minutes passed and he was on his way. I was on cloud nine and Carol knew what that meeting meant to me.
Fast forward to June 2, the day that I learned Jimmy had died. I was devastated and I still get tearful when I think about him.
What was just a moment in time for him left me with a lifetime of memories. When I play my new red Taylor, I try to emulate him but always fall short, but I try.
If you want to learn about a great musician and a great man, his book,
The Man in Back
is available. I strongly suggest it as it is a good read.
We get letters . . .
We get letters . . . sometimes.
We don't often get letters, but when we do, we print 'em! Thanks to our readers for your comments about the previous issue.
Lookin' great as usual!!! Lots of interesting articles for our members.
- Jen Shilt
Wow! Another smashing issue! I loved reading about the Spanuello's outreach program, all of our upcoming special events/music release, and particularly enjoyed having the marvelous collection of songs about mining for an immersive musical experience. Will set aside some time for reflection and listening to the whole collection along with viewing the video of the mining town. What history is woven into the music!
- Dottie Lee
Loved the article about Fred and Carol.
- Kristen Fuller
And regarding that list of songs about coal miners by Stephen Davis, here are three more:
Hey! Ya forgot Tennessee Ernie Ford's "Sixteen Tons"!
- George Mattson
Also "The Ballad of Springhill." (Sometimes called the "Springhill Mining Disaster.") Written and performed by Peggy Seeger & Ewan MacCall. Peter Paul & Mary did a nice cover.
- Bill Lemos
Reminds me of the Bee Gees "New York Mining Disaster"
- George Mattson
A Plank Road Afternoon with Mark Dvorak.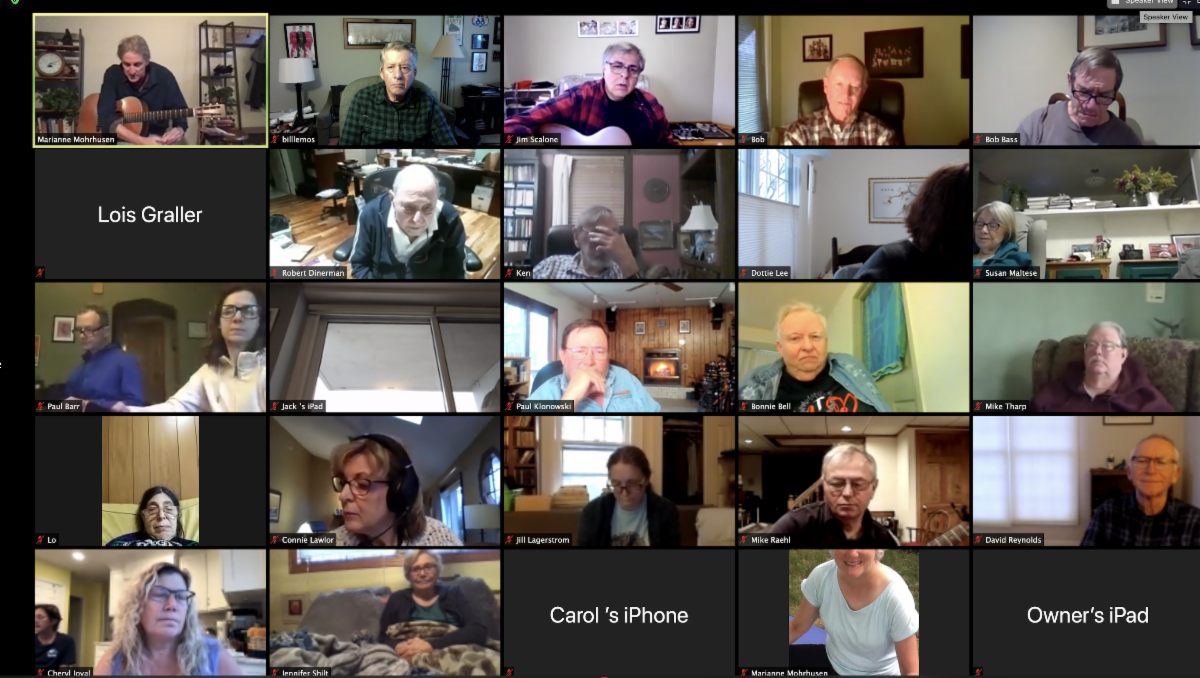 Pandemic or not, Plank Road's streaming presentation of Mark Dvorak's combination workshop and mini-concert was a big success. On November 14, an impressive 42 people linked up on Zoom for an informative and entertaining afternoon.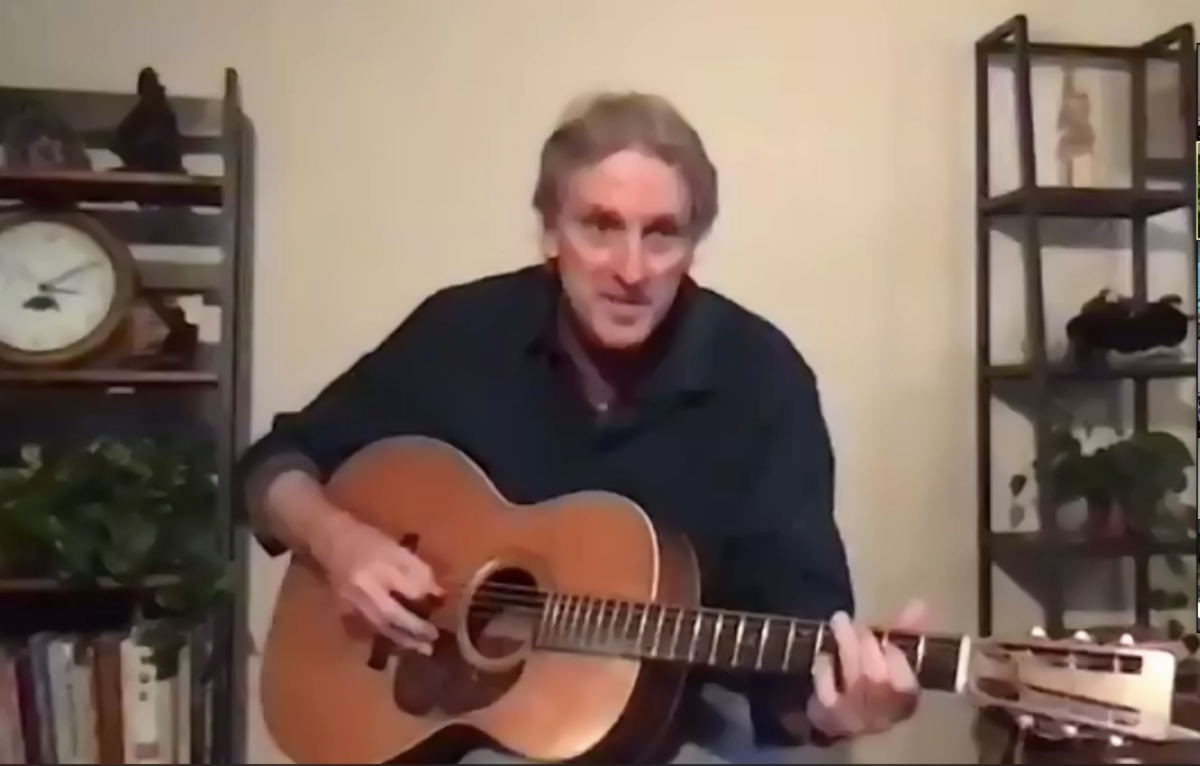 In addition to some great music and fascinating stories about the early days of Plank Road, Mark answered questions that viewers submitted earlier, providing some great tips and techniques. For example:
Trying to learn new songs? Instead of "practicing" them over and over, try "rehearsing" them. In other words, pretend you're on stage -- it's more fun, and makes songs easier to memorize.
The final months of 2020 were not good for the country music world. We lost three big names . . .
Mac Davis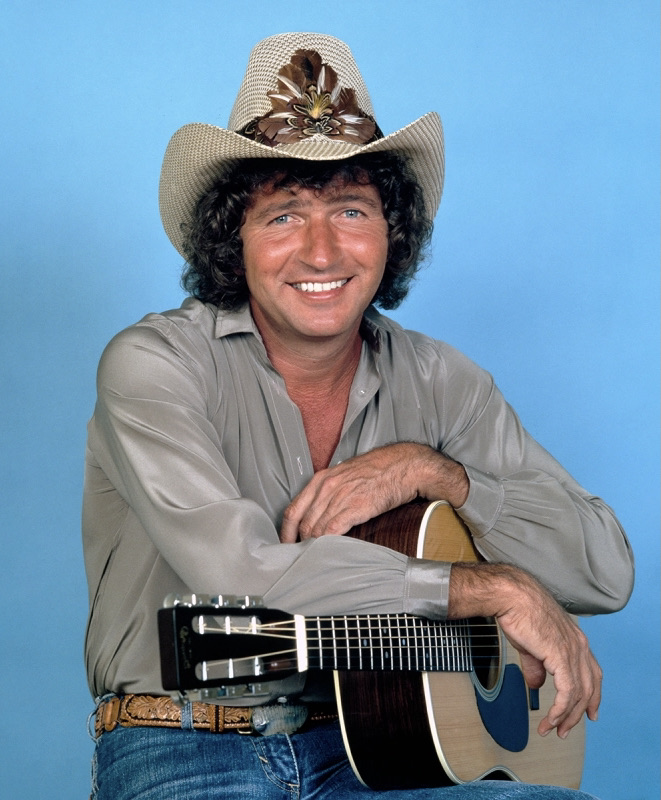 Singer, songwriter and actor Mac Davis died September 29 following heart surgery
at age 78. He enjoyed success as
a
crossover

artist, and during his early career wrote hit songs for a number of artists. Davis claimed that his songwriting secret was:
"I try to tell the truth and hope it rhymes."
Davis was born in Lubbock, Texas in 1942.
Upon graduating from high school, Davis left Lubbock to join his mother in Atlanta.
Inspired by the example of Lubbock's most famous son
,
Buddy Holly
, whom he recalled seeing driving through Lubbock in a brand new black and pink Pontiac convertible, Davis decided to give the music business a shot.
It was in Atlanta, around the age of 20, that he began performing in bands and writing songs while working as a "promotions man" for record labels.
Working for Liberty Records, he eventually landed in Los Angeles where Nancy Sinatra hired him to write songs for her and her company.
In the late Sixties, Elvis Presley cut a string of Davis compositions, including "
Memories

", "

In the Ghetto

", "

Don't Cry Daddy

", and "

A Little Less Conversation

".
A subsequent solo career in the 1970s produced hits such as "
Baby, Don't Get Hooked on Me

". Davis experienced modest success as an actor and TV personality as well, even hosting his own variety series,

The Mac Davis Show

, from 1974 to 1976.
Charlie Pride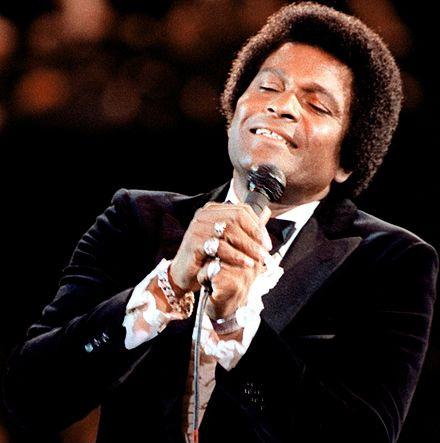 Country music's first black super star, whose rich baritone on such hits as "Kiss an Angel Good Mornin'" and "Is Anybody Goin' to San Antone," died December 12 of complications from COVID-19. He was 86.
Born in 1934 in Sledge, Mississippi, Pride picked cotton, played baseball in the Negro leagues, served in the U.S. Army, and worked in a smelting plant in Montana, where he began singing in public. A local DJ arranged for Pride to sing for country stars Red Sovine and Red Foley -- and they convinced him to move to Nashville
In Nashville, Chet Atkins, head of RCA Records, heard two of his demo tapes and signed him. Interestingly, to ensure that Pride was judged on his music and not his race, his first few singles were sent to radio stations without the usual artist publicity photo. That changed quickly when his debut album reached country music's Top 20.
He went on to release dozens of albums and sold more than 25 million records during his career. He won three Grammy Awards, and had more than 30 No. 1 hits. In 1993, he joined the Grand Ole Opry cast and was inducted into the Country Music Hall of Fame in 2000.
Billy Joe Shaver
A pioneer of outlaw-country who wrote some of the genre's greatest songs, Billy Joe Shaver died October 28 after suffering a stroke. He was 81.
Shaver's hard-lived career classics included "Honky Tonk Heroes," "Georgia on a Fast Train," "Old Five and Dimers Like Me," and "Live Forever." He wrote nine out of the 10 songs on Waylon Jennings' 1973 breakthrough album Honky Tonk Heroes. Kris Kristofferson, Johnny Cash, and Elvis Presley all recorded his songs; and in 2010, Willie Nelson called him "the greatest living songwriter."
Shaver lived the outlaw lifestyle that others only sang about. In 2007, he was charged with shooting a man in the face at a bar near his home in Waco. He was ultimately found not guilty -- and went on to turn the ordeal into a song, "Wacko From Waco."
Born in Coriscana, Texas, in 1939, Shaver was raised by his mother and would often accompany her to her job at the local nightclub. He later worked at a honkytonk in Waco, and in the early Sixties, moved to Houston where he met Townes Van Zandt. They became drinking buddies, and their friendship led Shaver to Nashville.
Shaver had a hard time breaking through in Nashville. He found a fan in Kris Kristofferson, who recorded one of Shaver's tunes for his debut album. Shaver persuaded Waylon Jennings to listen to his songs, including "Honky Tonk Heroes," which became the title track of Jennings next album -- and is one of the defining albums of outlaw country.
But Shaver was unable to make it as a mainstream artist on his own -- and his drug use escalated. He married one of his wives three separate times and lost her to cancer. And in 2000, his son and creative partner Eddy Shaver died of a heroin overdose.
Joel Simpson sent us this great photo. Hey, you guys haven't changed a bit!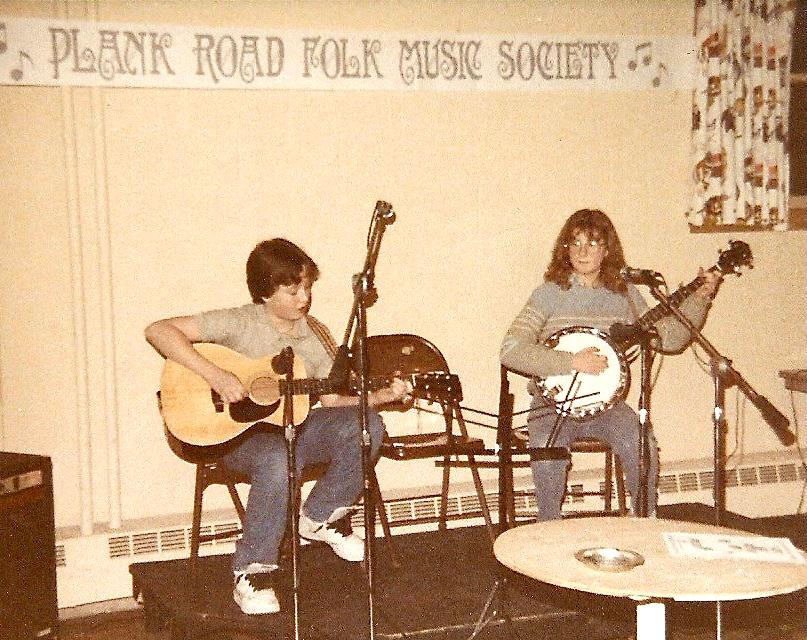 "Here is a gem for you. That is me and Jill Lagerstrom, June 1984, performing at some kind of Plank Road Folk Music Society Event. 12 years old."
-
Joel
Let's hope we can hear some live music soon!
Soon the sun shall rise again (hopefully in the east). Let us not forget our friends and favorite venues when once again we can safely enjoy live music.
In the meantime, some of these venues offer virtual concerts. Check 'em out . . .

Two Way Street Coffee House

Maple Street Chapel Folk Concerts
If you are near Lombard, please visit the Maple Street Chapel Folk Concerts website to see a current listing of upcoming performers.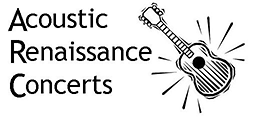 If you are near Hinsdale, please visit the
Acoustic Renaissa

nce
website
for a li

st of upcoming performers.

For those of you closer to the Wheaton area, please visit the
Acorn Coffeehouse
located in the Burning Bush Art Gallery at:
Every once in awhile, our friends at Tobias host music in their new(ish)
music room
Did you know
that many of our local libraries also host occasional music events throughout the year? Harpeth Rising, Mark Dvorak, Chris Vallilo, and Lonesome Eagle all have been featured at several of our libraries in the past years
.
Lisle Library's Friends of Lisle Library Concerts
are offered on a regular basis. You can check their calendar at:

The Brashler Barn
Located at 17560 S. Gougar Road, Lockport, IL 60441
Friends and Family Venue - Not a Public Business
No smoking, no alcohol, no pets, no children under 14
A Special Thanks to our Membership Contributors!!
Sustaining Member
Supporting Members ($50

- $199

)
Dan and Mary Anderson
Bill and Mary Boylan
Tony Janacek
Paul Klonowski
Dottie and Gerry Lee
Bill and Sandhya Matthews
George Mattson
Gregg and Elizabeth Morton
Bud O'Connor
Joe and Pam Schumacher
Jen & James Shilt
Carol and Fred Spanuello
Gary Steffenson
John Wolaver
If you would like to become a member or just need to renew, here is a link to the
renewal form
that you can print and mail.
Bob O'Hanlon - President
(630) 702-0150


Bill Lemos - VP, Secretary

Connie Lawlor - Treasurer


2021 Board Members
Dave Humphreys
Kristen Fuller
Jennifer Shilt
Jim Gilroy
Dottie Lee
QuarterNotes Contributors
Bill Lemos - Editor
Bob O'Hanlon
Andy Malkewic
z
Jen Shilt
Fred Spanuello
Do you have ideas for future articles? Things you'd like to see in the newsletter? Ways we can make it more enjoyable and relevant to Plank Road members? Here's your chance to be "
note
-worthy." Just send us an email with your comments about QuarterNotes. We welcome your input!
We may publish some of your comments and always appreciate ideas. (Think of it as sort of a "letters to the editor.")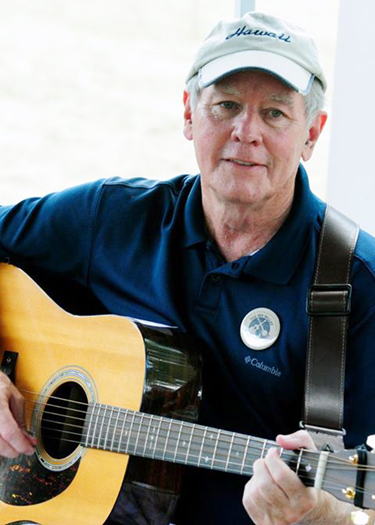 President's Message
January 2021
Greetings and Happy New Year to all Plank Road members. That phrase takes on a special meaning in these days of the pandemic, which will probably have an influence on how happy we all are during this new year. Plank Road has carefully followed all recommended health initiatives and will continue to do so. But, dare I say, there is a light at the end of the tunnel? Let's hope 2021 is a year when things will return to normal. I would love to see all of you in person again.
I do want to mention one event, which was the highlight of 2020, the Mark Dvorak virtual concert/workshop in November, which was well attended and brought many "old time" Plank Roaders together. It was a joyous occasion.
Of course, the first quarter schedule of Plank Road events will continue to look like 2020 for a while, with Zoom music sessions, and no log cabin annual meeting or barn dances.
One more topic, the Plank Road board of directors for 2021 will remain the same, except that Stephen Davis is leaving and Connie Lawlor is joining the board. Thanks to Stephen for several years of contributions, and welcome Connie.
The board works behind the scenes to keep the organization functioning, managing the finances, planning events, publishing QuarterNotes and doing all the things that are necessary. Also, thanks to our main music man, George Mattson, for all he does for us and to Ron Leaneagh, for his help in managing our Zoom sessions and sound for all string band activities. And, of course, we can't forget to thank our friends at Two Way Street Coffee House, for their constant support; thanks Joel, Jen and Tim.
Stay healthy and I hope to see you in 2021.
Bob O'Hanlon
President
"Vintage" Plank Road Tapes Are Now Digital
Check out some great music . . .
Down the Old Plank Road is now available!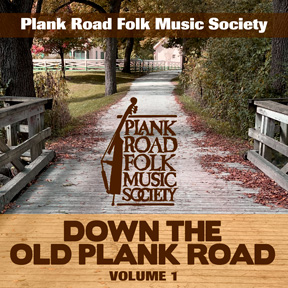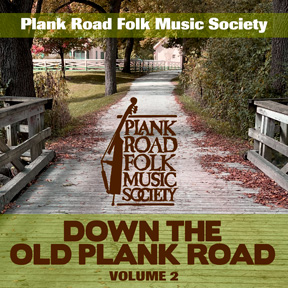 Good news! Volumes 1 and 2 of the reissued folk music albums from 1995 are now available in digital format. Down the Old Plank Road features a group of Plank Road performers singing and playing some great old songs. You'll recognize many of these musicians -- George Mattson, Mark Dvorak, Cathy Jones, Dave Humphreys and more.
Professionally recorded, these albums were originally released on cassette tape, and have now been digitally remastered for pristine sound -- and are easily accessible on many popular streaming services.
Here are some links:
Just click on any of these links - they should take you directly to the Plank Road albums. For other streaming music sites (which may require subscriptions), simply search for "Down the Old Plank Road" or "Down the Old Plank Road Volume 1."
Thanks to all who helped launch the project
Joel Simpson spearheaded the project and Plank Road agreed to cover the expenses. Maurice Smeets, the recording engineer who did the original cassette recordings, produced the digital versions. Jen Shilt created new album cover art, and Dottie Lee got the word out through our website and Facebook page, while Joel coordinated distribution to the streaming sites.
Dottie was pleased with the results.
"I am so very happy that we decided to back this project. The music sounds so good and the artwork is beautiful."
"The response has been great," adds Joel. "We're glad to offer our members these exciting projects."
Here are just a few of the great old songs you can enjoy:
* Shady Grove * I Am A Pilgrim * Lily Of The Valley * The Fox * Wayfaring Stranger * Lonesome Road Blues * PLUS lots more blues, traditional and old time string band tunes!
Click a link and enjoy!
Moving on . . .
Stephen says goodbye to the Plank Road board of directors . . . but
not to Plank Road.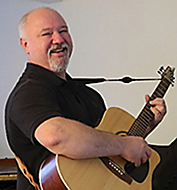 "Thanks everyone. I have enjoyed my time on the board and have no intention of leaving PRFMS. I look forward to the time when we can all rejoin in song."
Stephen Davis is known for his affable demeanor, generosity and virtuoso skills on the guitar. He's also been Plank Road's treasurer and board member for a number of years. This past Fall he decided it was time to move on and devote more time to other pursuits. While leaving the board of directors, Stephen still plans to remain an active member of Plank Road.
We asked Stephen to tell us a little about himself and his interest in music . . .
"My family was fairly musical," says Stephen. "My mother went to Wesleyan in Bloomington on a music scholarship, and my father played bass in dance bands." His father's mother played piano and, together with an uncle, was instrumental in starting the Elmhurst Symphony.
"My mother tried to teach us piano when we were 6, but failed," he recalls. Stephen then tried guitar, "but the strings hurt my fingers."
Eventually he began taking drum lessons with an aunt. "She and my aforementioned uncle had a music shop in Elmhurst, which lasted until we moved to Pennsylvania. "Then I somehow ended up with an acoustic guitar and took some lessons,"
That continued for the next 18 years, during which he moved back to Illinois -- and Stephen says he is thankful for what he learned from a number of guitar teachers over those years.
Rock 'n roll came next, of course!
"I started jamming in bands when I was in 8th grade," says Stephen. In high school, his
rock band gradually began working weekends, playing all over Central Illinois and beyond. "But then I quit, and focused on school where I studied electronics and music, played in a wedding band and taught guitar."
After graduating from high school, Stephen says, "I hit the road, playing in hotel lounges and restaurants from Mississippi to Minnesota and from Nebraska to Maryland. My goal had been to support myself playing music -- and I did do that for the most part, but I felt like I hit the ceiling and quit music. After I quit playing, I raced small boats on Lake Michigan, including a couple of races down on Lake Pontchartrain."
Musical influences through the years . . .
Stephen says his early influences were the Beatles and other British Invasion bands. "In PA, I listened to the "underground" radio station which was playing Dylan, Ochs, Jefferson Airplane, Cream, etc. My father enjoyed Stan Kenton and both of my parents enjoyed Dixieland jazz."
"Moving to Peoria from the east coast was like stepping into a time warp," says Stephen. "By that time I was listening to the Allman Brothers and Pink Floyd. By the time high school was done, we were into Progressive Rock (Yes, Moody Blues are still some of my favorites) and Jazz Fusion."
Tell us about your first guitar.
"My
first electric was a Sears guitar given to me by my uncle, who played trumpet in an R&B band near Charleston. I don't play my electrics much anymore except in church."
How did you gravitate to folk music?
"I grew up listening to Tom Paxton, Bob Dylan, Phil Ochs. My mother had some albums by Peter Paul and Mary, the Chad Mitchell Trio and Flatt & Scruggs."
What genres do you like today?
"Today, although I like a little bit of everything, I mostly enjoy bands with great harmony vocals like the Cowsills, Darlingside, Crosby, Stills & Nash, or Bluegrass Gospel like the Cox Family. Also progressive rock such as Yes and the Neal Morse Band."
How did you become such a good guitar player?
"Good teachers, lots of practice and lack of fear."
Stephen's thoughts on Plank Road . . .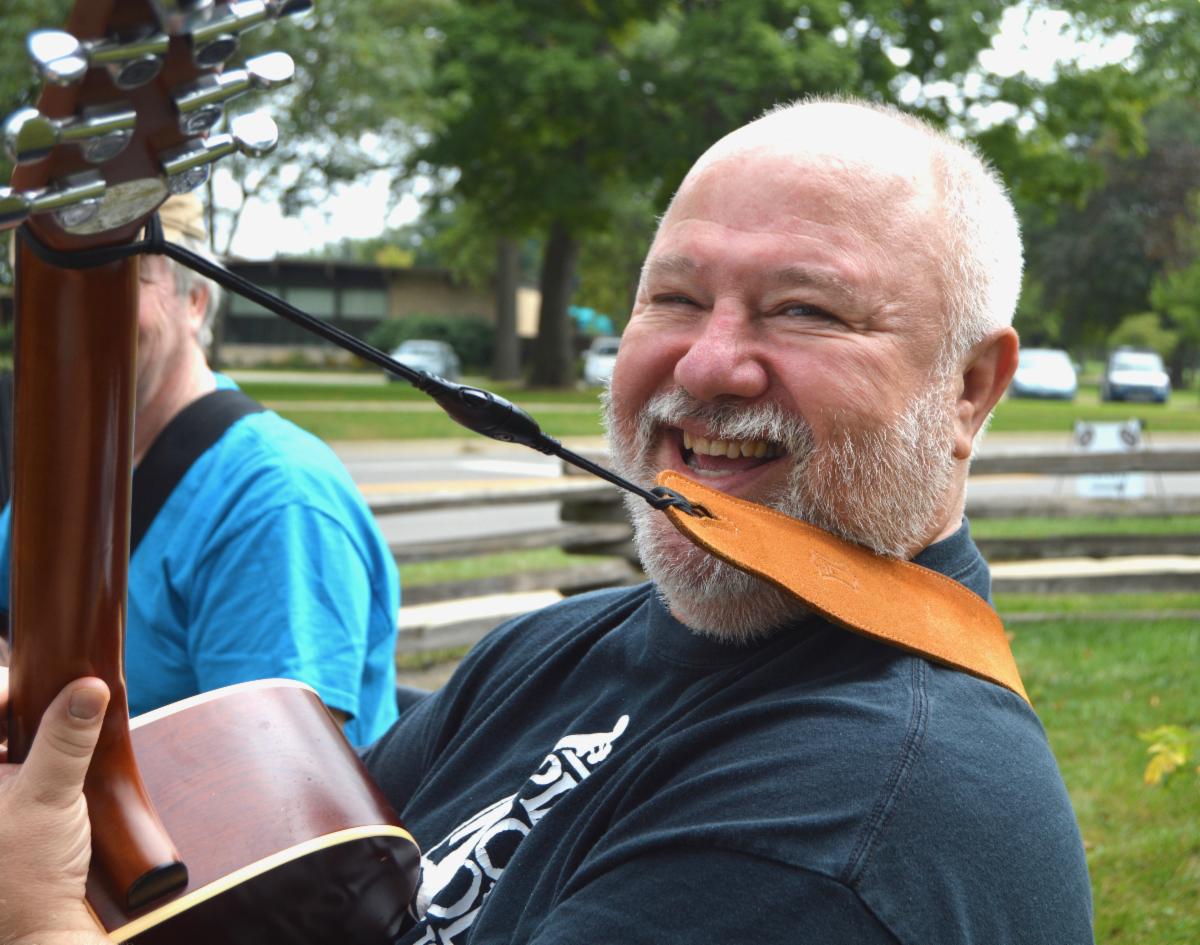 "
I think Kristen Fuller told me about PRFMS, when I picked up guitar again after a 20 year layoff." He says the best things about Plank Road have been the learning experiences and the people. "All the folks are great people -- the sing-arounds, the barn dances, the parties are great because of the people."
He also credits the string band. "Old time music was something I knew nothing about. It was a great learning experience for me, not to mention the great folks in the string band -- Ron, George, John, Barb, Jen, Kristen, Cathy, Chuck, Jim and Carol."
"I am also very fortunate to be able to play for the First Congregational Church, mostly monthly for the Wednesday evening Grounds of Hope. I also enjoyed helping out in Two Way Street for many years."
"We are sorry to see you leave the board, but understand completely. Your contributions have been invaluable over your years on the board. Thanks for everything. Good luck to you and your family. We hope to see you soon, in the "post -Covid" world."
- Bob O'Hanlon
Christmas Party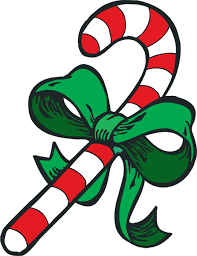 Plank Road celebrates
the holidays --
online.
It was virtually a great time!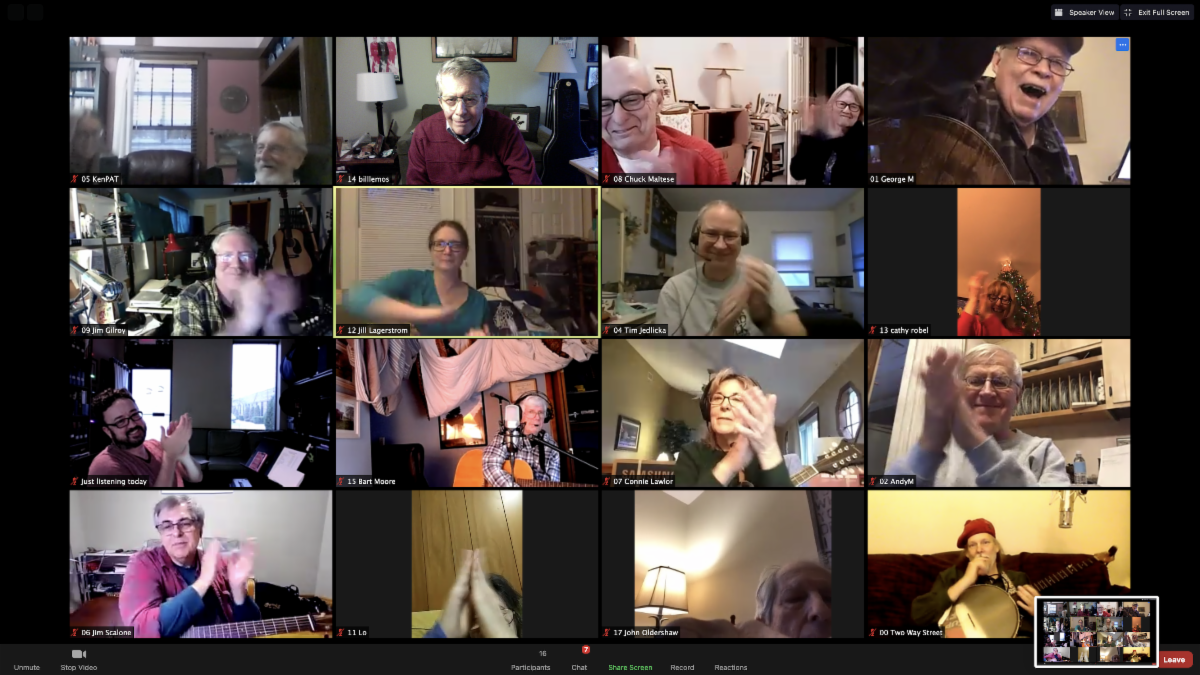 Well, it wasn't like our usual Christmas Party. But really, what has been "usual" in the past year? As with all our current events, the 2020 party on December 19 was conducted virtually, via Zoom. We missed the caroling in downtown Downers Grove, and the delicious holiday treats. But here's what we
did
have:
And perhaps most important, the camaraderie of hanging out -- virtually -- with fellow Plank Road members while enjoying the music of the season.
Special thanks to George for making digital Christmas songbooks available and making sure everyone got to participate; and to Ron Leaneagh for hosting the Zoom session.